OVER VIEW
FinTech is the application of technological innovation in the financial services industry. The growth in FinTech brings an increasing demand for trained professionals. Fintech can be defined as the application of digital technologies to create, record, transfer and manage financial value and risk. It is estimated that by 2020, there will be 10,000 new jobs in the FinTech field on a world-wide basis, with many of the traditional jobs in the financial services industry being replaced by employees with FinTech skills.

The course provides an introduction to intellectual frameworks and tools to assist with the analysis of issues and courses in the interdisciplinary field of technology, business and policy; to enable an interactive environment to explore ideas and issues related to Blockchain, automation, artificial intelligence, machine learning, cybersecurity, big data, from a legal/business/technology perspective. The learner will develop an understanding of the international financial services market and develop competence in key finance concepts, digital and interpersonal skills.
LEARNING BENEFITS
• How Fintech is actually helping banks a) Acquire and Retain customers; and b) compute and enhance Customer Relationship Value
• How User Experience (UX) is becoming the USP when banking services and products are getting commoditized; And how to deploy technology to drive superior UX
• What is Big Data and how Data Analytics is transforming traditional business deliveries
• How Artificial Intelligence, Machine Learning, Chatbots, Voice Recognition are bringing tectonic shifts in the traditional ways of banking operations
• Learn all about Blockchain and what exactly can it solve in bank
• What are new age electronic Payment and Settlement Systems and e Commerce; How electronic payments will drive revenues
WHO SHOULD ATTEND
Professionals from Banking and Financial Services Industry (BFSI) and from Insurance companies.
COURSE CONTENTS
• What is Financial Technology, its relevance to Banking and Financial Services Industry (BFSI)
• Building, Maintaining and Running Digital Channels to Drive Business Growth
• Driving Business by Adopting Digital and Online Marketing
• Data Warehouse, Business Intelligence, Analytics, Big Data, Cross Sell
• CRM and Customer Life Cycle Management - 3600 view, Economic Relationship Value and Life Time Value of customers for a Bank
• Payments and e Commerce
• Alternate Credit Lending Models
• Business Process Reengineering and Automation of customer facing as well as internal processes in a bank
• Blockchain – What, Why and How of Blockchain for BFSI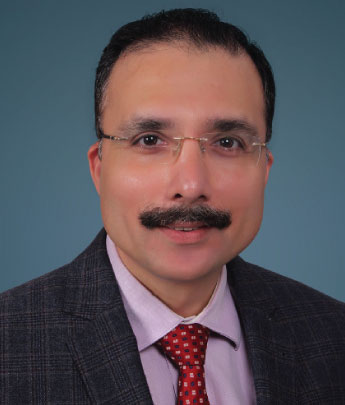 Rahul Joshi
Lead Consultant & Strateigic Adviser - Banking Technologies
---
Mr. Rahul Joshi has over 25 years of experience in Retail Banking, of which over a decade was invested in building all things Digital. He is a Strategic Adviser on Banking Technologies, Digital Banking, Electronic Payments & Digital Commerce to New Age Payment /Small Finance Banks, Fintech Companies, NBFCs and other large Consulting Firms. He also on the Board of several early stage Fintech Startups in the areas of Payments, Mobility, Business Intelligence, Robo Advisory etc. He works as a Turnkey Project Consultant or as an Adviser on long term Key Strategic Projects in the Digital Banking, Electronic Payments & Digital Commerce space.

Rahul Joshi actively participated with NPCI in designing high level architecture for both IMPS and UPI. He was a member of the Technical Committee formed by RBI to examine options for expansion of mobile banking in India. He also participated in working groups formed by RBI to look into various aspects of mobile payments. Formed alliances with several MNOs for launch of various "mobile money" services on behalf of ICICI Bank. Launched the first mobile banking application in the country. Introduced the widest suite of mobile banking options such as Client Apps, USSD, SMS, IVR, responsive site etc.; Incorporated several VAS on ATMs such as opening of FD, Bill Pay, Fund transfer, Payment for Insurance, Cards, Loans, mobile recharge etc. for the first time in the country ; was responsible for getting ISO 27001 certification for Digital Channels which included Internet & Mobile Banking and ATM for ICICI Bank; Pioneered to convert net banking from a cost center to a profit center; Launched Money Manager, a personal financial manager. Launched the first direct banking channel b2 in India.

Mr. Joshi has worked for ICICI Bank, Reserve Bank of India (RBI), Meghraj Financial Services (I) Ltd., Cholamandalam Investment & Finance Company Ltd., Murugappa Group Company and Gujarat Lease Financing Ltd. in various senior level position

He completed MBA in finance from University of Pune and and completed B.Sc. Electronics from Fergusson College.
---
---
Date

January 26 & 27, 2019

Time

09:30 am - 05:30 pm

Duration

2 Days

Reg. Before

January 19, 2019

Vanue

To Be Confirmed
NRB Jobs Training reserves the right to alter dates, content, venue and trainer.
Per Perticipant
BDT 18,000/-
Early Bird Discount
BDT 15,000/-
(Excluding All Tax & VAT)